Rosamund Pike Risks Momma's Boy Peter Dinklage's Wrath In I Care A Lot Streaming On Netflix
Written By Matthew Sadowski

In Netflix's new dark comedy I Care a Lot, Rosamund Pike stars as Maria Grayson, a highly successful legal guardian who looks after elderly clients and takes control of their estate when they can no longer legally take care of themselves. The problem is, every single one of her clients is absolutely still mentally and physically capable. Grayson is a con woman, in cahoots with a local doctor (Alicia Watt), who identifies potential marks and embellishes their conditions, and a nursing home manager (Damian Young), who puts Grayson's clients in prison-like isolation. Their scheme always went off without a hitch, until they met sweet little Jennifer Peterson (Diane Weist), a wealthy ex-banker with no known relations and millions of dollars in diamonds in a safe deposit box. After she is put away, a mysterious crime lord (Peter Dinklage) who calls himself Jennifer's son goes on a rampage against Grayson and her assistant/lover Fran (Eiza González) to get the old woman out.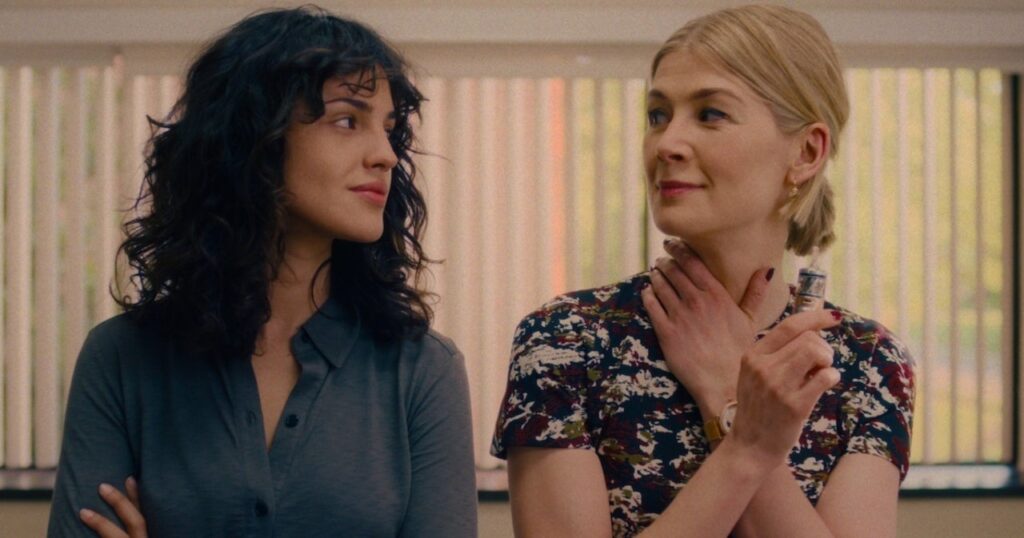 Rosamund Pike fits right into her role as an icy manipulator (see her previous work in Gone Girl), and is able to carefully balance the right amount of charisma and menace to play against Peter Dinklage's seething anger. The two criminals are truly despicable people, and you never truly root for either to win, but you never truly hate Grayson more than her rival either. Dinklage's character is mentioned to be a human trafficker, immediately giving Grayson at least a little righteousness in her violence. But don't worry, she doesn't gets enough of her just desserts throughout the movie.
The cinematography is a nice compliment to Grayson's deliberate scheming, frequently staying very, very still, letting us just wait for the "lioness" (as she calls herself) to pounce. There's also some delightfully weird and twisted visuals, like staring down our protagonist's throat at a dentist, or getting a bird's-eye-view of naked man lying unconscious on a wooded road.I Care a Lot is a solid crime dramedy that knows the strengths of its performers and revels in the audience's conflicted feelings on its characters' natures.
I Care a Lot
Directed by: J Blakeson
Starring: Rosamund Pike, Peter Dinklage, Eiza González, Diane Weist
2021
120min
Streaming on: Netflix
We also provide red carpet hosting services as guests walk into your event one of our hosts will interview the guest. Photographyis one of our services feel free to contact at anytime 24 hours a day. HustleTV we love our fashion, music keeps the world moving Follow us on all social media Platforms