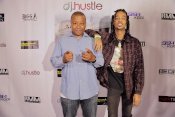 DJ Hustle Is On KGGI 991 IHeartRadio As A On Air Mixer
DJ Hustle DJs all over Los Angeles & IE  Hustle keeps the party going no matter where it is. Clubs, Weddings, Concerts and smaller events such as Bar Mitzvah, Quinceanera and Corporate events.
DJ Hustle keeps the turn tables and his hands turned way up playing the latest hip hop and pop culture music on heart radio. Catch DJ in the clubs or small events all over Los Angeles & IE. Hustle has start teaching private lessons on how to DJ. DJ Hustle makes house calls to teach his students the art of DJ ing. Hustle's new passion is to pass on to others what he has learned over the past twenty years in the DJ business.
DJ Hustle staying on top of the new technology is a big job all by it's self. He's keep up the new Pioneer CDJs
Meet the cutting edge multi-player that opens ways to exhibitions beyond anything you could ever imagine. The exceedingly developed CDJ-2000NXS incorporates propelled highlights, including 4-deck Beat Sync, Slip Mode and Hot Cue Auto Load.
Utilize the included rekordbox programming or download the rekordbox™ application to get ready amazing sets, or utilize the HID help to perform with other DJ programming without a control plate.
The PLX-1000 is accuracy built for the dj booth, drawing on 50 years' involvement of making top of the line turntables. The outcome is a comfortable design with some cutting edge enhancements, including a high-torque direct drive framework, multi-pitch control, club-grade manufacture and sound quality, and separable power and sound links. It's emphatically worked for brilliant vibration damping and ultra-exact, high-grade sound playback.