Whether they know it or not, everyone's got a singer in them –– all they need is a light push and the right music. Get your next party moving by having a karaoke set for your guests! And here at Hustle Events, we have all the equipment you will need to make the experience as memorable as possible. You won't have to do a thing other than sing to your heart's content.
Why Do Karaoke At Your Next Event
Karaoke is a great social activity that goes well with any event: birthday parties, corporate events, weddings…you name it. Even the most shy among your friends will hum and bob their heads as our DJs play some of the most beloved songs on the radio. And who knows? Maybe with some liquid courage anyone will come up to the microphone.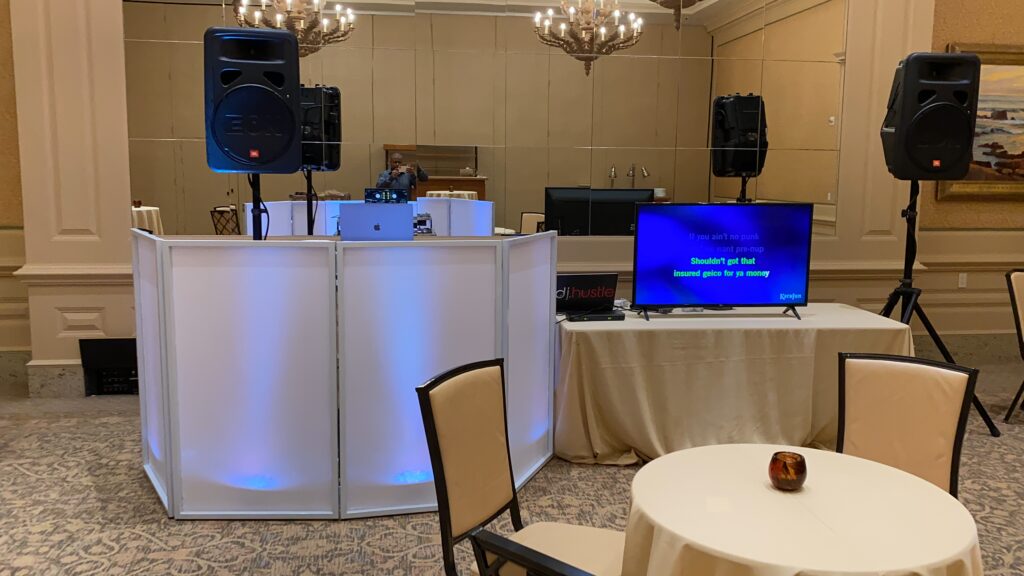 What Hustle Events Can Do For You
Hustle Events will manage your entire karaoke experience so that you don't even lift a finger –– all you have to do is come ready to sing. Our team will work with you to have any song you can think of available. Our library is already well-stocked, but if you submit requests ahead of time we can also make accommodations.
But hiring a DJ to work your karaoke night is more than just having songs to sing to. We offer lighting, professional equipment, and especial effects, just to name a few of our services. We can even create a red carpet experience for you and your guests.
Quality You Can Trust
Most of the DJs working with Hustle Events learned the trade in Las Vegas or Hollywood club scenes, so you know they know how to party. They like to have a good time and know how to get a crowd moving –– whether they're working a nightclub or bar event, they will curate a unique experience everyone will be talking about for days afterward.
Our team has all the music you need, including techno, pop, hip-hop, and pretty much everything you can think of.
So, What Now?
Now that you know a little more about our services, we invite you to give us a call and discuss your plans. Our team will work with you to bring your vision to life –– we want you to dream big and then dream bigger.
We have years of experience working with some high-name celebrities and clients. Whether you're throwing a small home party or hosting an event at some club, we can cover all your needs. Get in touch today: (310) 889-5160.
We also provide red carpet hosting services as guests walk into your event one of our hosts will interview the guest. Photography is one of our services feel free to contact at anytime 24 hours a day.