West Festival Ultimate West Coast Party And Music Event
This is the first festival celebration of its kind, featuring all regions of Westcoast hip hop music. Made and outlined by the show group at Cabana Life Concerts. This celebration is a natural Westcoast celebration. In the West, for the West, by the West. Our vision was to make a celebration and brand that was representative to our Westcoast culture and way of life, intended to spotlight our own ability from California. DJ Hustle  of 991KGGI takes you behind the scenes with all the artists.
From Legends to Future legends, you can catch them all performing live at the 1st annual Welcome to West Music Festival live at Citizens Business Bank Arena in Ontario California May 26th 2018 It's more than music – it's a brand, a culture , a lifestyle. Welcome to the West.
DJ Hustle interviews Daz Dillinger & Slim 400 backstage. The music game is a young mans game to the fullest and he supports Slim 400. Slim stays he watching the OG's and he keeps his hustle moving. Slim is one out of the younger genaration who works hard on his grind.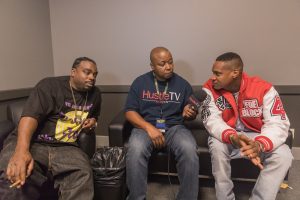 DJ Hustle caught up with Tay F 3rd before his performance back stage. Tay say's the hate has stop in Long Beach due to everyone working as one, Willie Mammuth all Long beach has to do keep doing what we doing smashing.
DJ Hustle takes on stage with west coast legend Suga free as he get the crowd hyped watch video below.
When Daz dillinger & kurupt aka Tha Dogg Pound hit the stage it's lights out the fans are hype singing along to all the hits jumping with the hand in the air.
Mozzy came out on stage showed up and showed out he kept the crowd hype throughout his performance.
When you see a Luniz Show you already know it's going to be turned way Up.
Tha Eastsidaz hit the stage all the fans had the E'S in the air video below.
Nipsey Hussle came with a full band so you know we at HustleTV  had to feature them as well. Talk hip hop and you can't miss Nipsey Hussle he is the next level.